UKH Career Development Centre (CDC) is glad to announce Employability Courses this summer which UKH students and the public can apply to.
CDC is providing 25 courses, delivered by specialised staff from UKH, U.S Consulate General in Erbil (IREX), Rwanga Foundation and Korek Telecom. Participants of these courses will receive participation certificates at the end of the courses. Course details, fees and dates are mentioned in the table below.
Deadline for registration and payment is Thursday 23 June at 3:30 PM. Payments are accepted in cash at UKH Finance Department between 9:00 AM and 3:30 PM.
Seats are limited per each course, we strongly encourage early applications.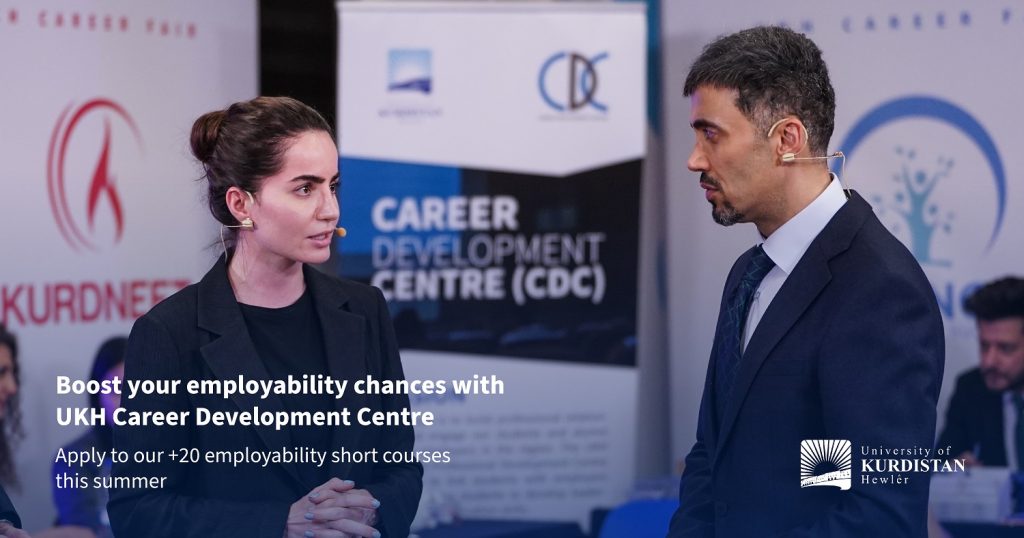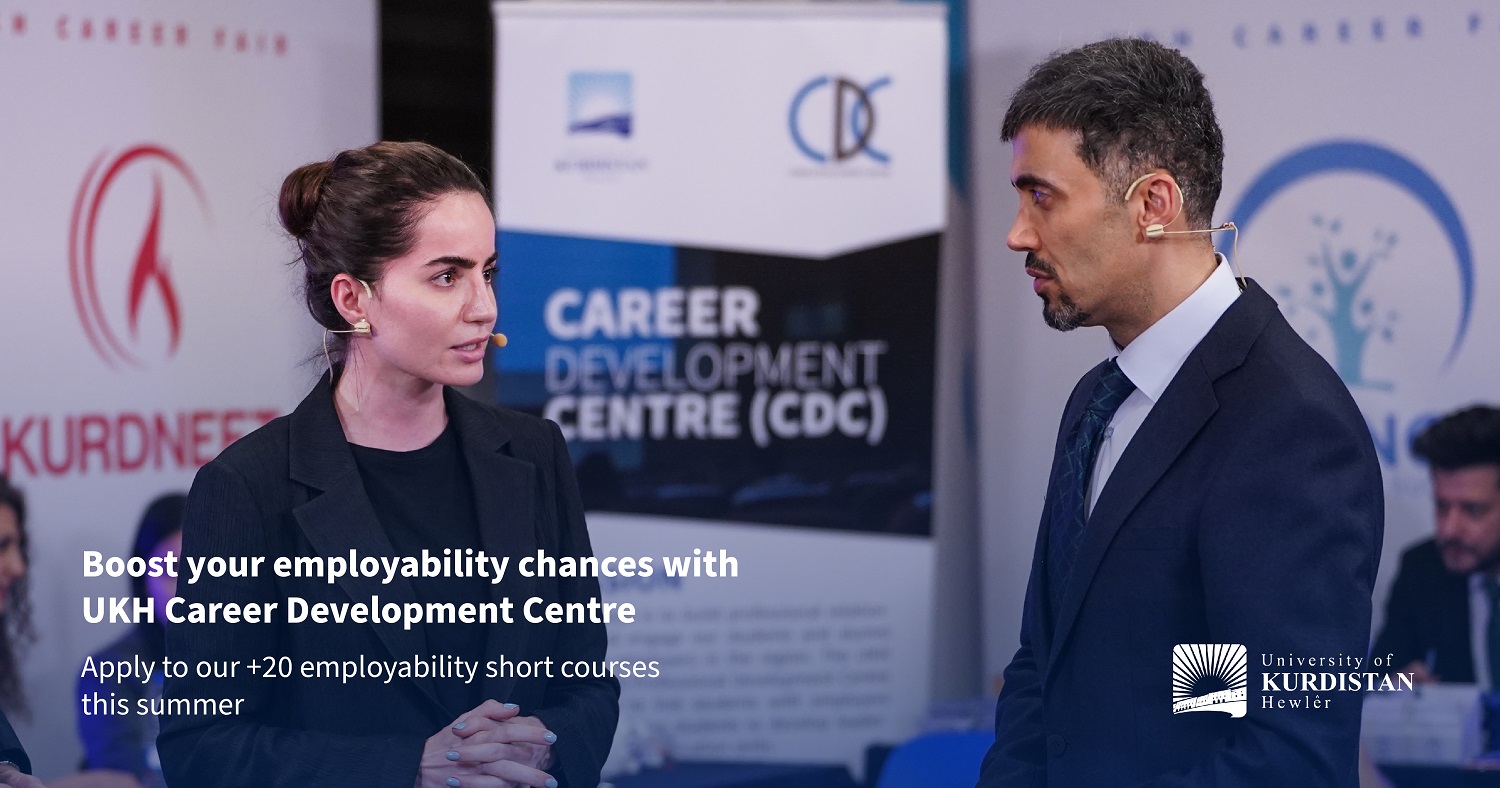 | | | | | |
| --- | --- | --- | --- | --- |
| No. | Course | Delivered By | Date & Time | Fees |
| 1 | Building Job Hunting Skills | Jawdat Tashan | 28, 29, 30 June 10:00 AM – 12:00 PM | $100 |
| 2 | Introduction to Solar and Wind Applications | Dr. Soorkeu Atrooshi | 28, 29, 30 June, 03 July 1:00 PM – 3:00 PM | Free of Charge |
| 3 | Learn Robotics with Ibrahim Hamarash | Dr. Irahim Hamarash | 28, 29, 30 June 1:00 PM – 3:00 PM | $50 |
| 4 | Why Governments are not Always Efficient | Ismael Majeed | 28 June 9:00 AM – 1:00 PM | $50 |
| 5 | Important Elements of Media and Communications | Mahnas Lashkri | 28, 29 June 9:00 AM – 11:00 AM | $60 |
| 6 | Commercial Project Management | Korek Telecom | 29 June, 9:00 AM – 1:00 PM | $20 |
| 7 | WCDMA and LTE Configuration and Operation BSS – NSS – NMC Departments Work Scope | Korek Telecom | 30 June, 9:00 AM – 1:00 PM | $20 |
| 8 | Job Search Strategies -Professional Development Workshop | US Consulate General & IREX | 30 June, 1:00 PM – 2:30 PM | Free of Charge |
| 9 | Digital Marketing | Korek Telecom | 03 July, 9:00 AM – 1:00 PM | $20 |
| 10 | Critical Thinking: Skills Building Workshop (Online) | US Consulate General & IREX | 30 June, 3:00 PM – 4:30 PM | Free of Charge |
| 11 | How to Deal With Tenders in Software and IT Projects | Dr. Hossein Hassani | 3, 4, 5 July 1:00 PM – 3:00 PM | $100 |
| 12 | Using and Programming PLCs | Dr. Wrya A. Monnet | 3, 4, 5 July 9: 00 AM – 11:00 AM | $50 |
| 13 | Public Speaking | Bill Rammell | 04 July, 9:00 AM – 11:00 AM | $50 |
| 14 | Interview Preparation- Professional Development Workshop | US Consulate General & IREX | 04 July, 4:00 PM – 5:30 PM | Free of Charge |
| 15 | Applied Telecommunication and Wireless Networks Engineering | Korek Telecom | 05 July, 9:00 AM – 1:00 PM | $20 |
| 16 | Resume, CV Writing, and Cover Letters for the Digital Age – Professional Development Workshop | US Consulate General & IREX | 05 July, 12:00 PM – 4:00 PM | Free of Charge |
| 17 | Online Professional Presence and Branding – Professional Development workshop | US Consulate General & IREX | 06 July, 12:00 PM – 4:00 PM | Free of Charge |
| 18 | Human Resources Management | Korek Telecom | 07 July, 9:00 AM – 1:00 PM | $20 |
| 19 | Professional Communication: Verbal and Non-Verbal Communication | Rubar Dizayee | 07 July, 3:00 PM – 4:00 PM | $20 |
| 20 | The Importance of Customer Care | Korek Telecom | 17 July, 9:00 AM – 1:00 PM | $20 |
| 21 | How to Create a Successful Work Habit | Rwanga Foundation | 18 July, 9:00 AM – 12:00 PM | Free of Charge |
| 22 | Proactivity at Work | Rwanga Foundation | 18 July, 1:00 PM – 4:00 PM | Free of Charge |
| 23 | Ethics in Workspace | Rwanga Foundation | 19 July, 9:00 AM – 12:00 PM | Free of Charge |
| 24 | Volunteering | Rwanga Foundation | 19 July, 1:00 PM – 4:00 PM | Free of Charge |
| 25 | Design Thinking | Rwanga Foundation | 20 July, 9:00 AM – 12:00 PM | Free of Charge |