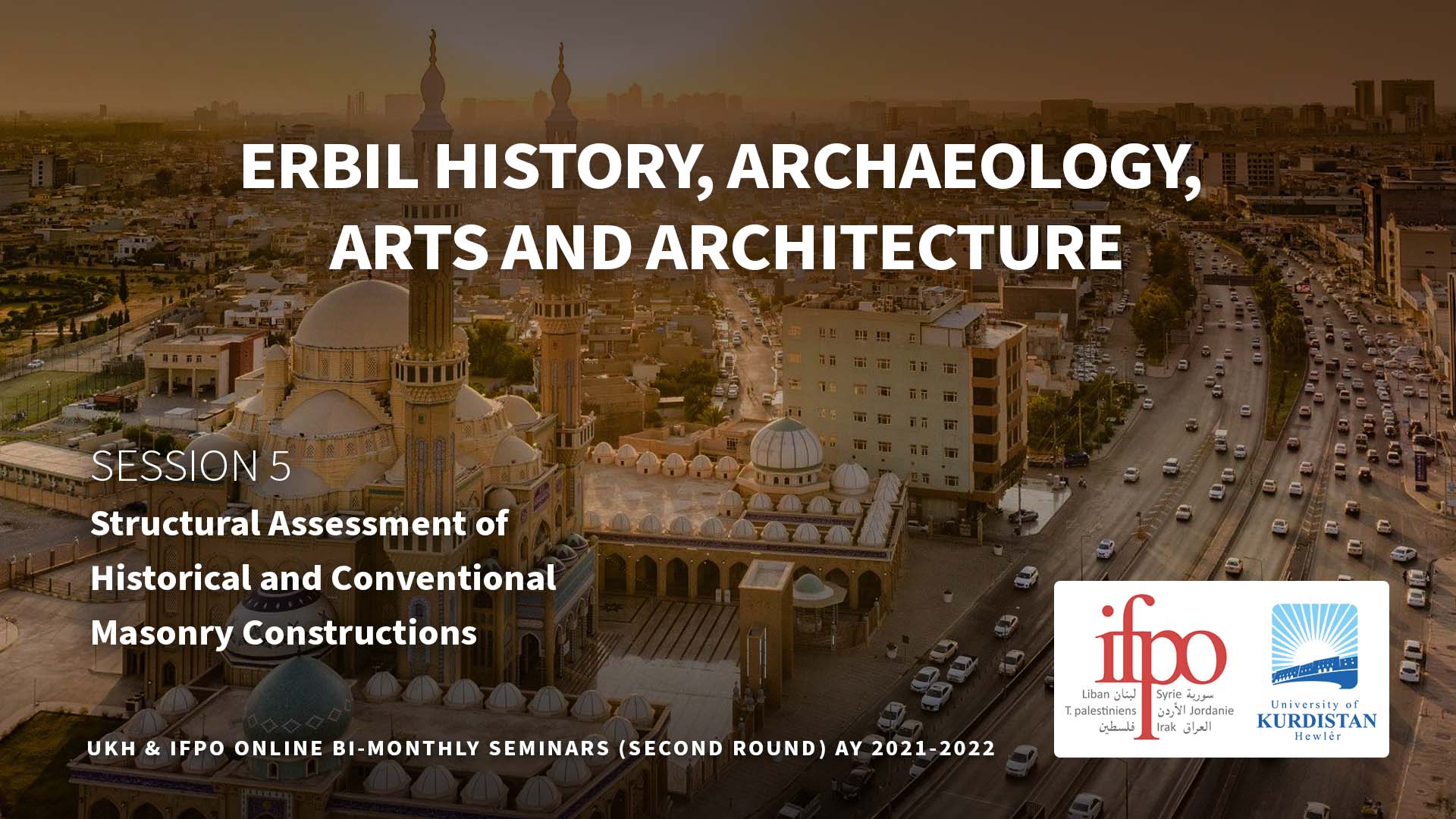 Seminar: Structural Assessment of Historical and Conventional Masonry Constructions
Presented by Fouad MOHAMMAD
Nottingham Trent University
Seminar Abstract
This work deals with the structural assessment of historical and conventional masonry constructions. The term masonry applies to traditional stonework, brickwork and blockwork which are extensively used worldwide as low-cost vernacular buildings and historical constructions. Stone, adobe, and brick are all typical materials used as part of the structural system of historic buildings such as Erbil citadel, Minerat Al-Hadba and Pizza tower, to name a few. These types of masonry constructions exhibit a degree of complexity in terms form, geometry, material, loading, damage, and history. Therefore, an appropriate structural assessment ought to be conducted by qualified building surveyors and professional structural engineers before performing any restoration or rehabilitation treatments with regard to architectural conservation of conventional and historical buildings.
Structural appraisal can be defined as the process of checking the adequacy of an existing structure and this can be examined under overall stability, strength, robustness, stiffness, …etc. Structural appraisal is a different activity to structural design. It is aimed at assessing the real condition of an existing structure, hence finding out whether the structure is adequately safe now and will it remain so in the future; and if it can be used for its intended purpose now and in the foreseeable future.
This work tries to identify defects occur in masonry buildings for a variety of reasons. Hence, requires a systematic investigation comprising of visual observations, oral and recorded information, and structural monitoring.
The necessary obtained information should predominantly cover date of construction, sketch plans of each level, structural materials used, details of any modifications and alterations, details of cracks, distortion measurements of walls and floors.
The study presents and discusses real cases of cracks and damages and their classification according to the Building Research Establishment (BRE) Digest 251. In addition, it suggests that further investigation such as non-destructive testing and soil investigation or even advanced numerical methods should be conducted whenever feasible in order to confirm or determine the exact cause of damage. Consequently, the right and most efficient remedy or restoration approach can be adopted.
SHORT BIOGRAPHY
Fouad Mohammad is a senior lecturer of Structural Analysis and Design in the School of Architecture Design and the Built Environment at Nottingham Trent University, UK.
Fouad holds BSc Civil Engineering from Baghdad University (1979); MSc Civil Engineering (majoring in structures) from Baghdad University (1987); MSc Structural Design with Distinction from Kingston University, UK (1993); PhD Civil/Structural Engineering from Liverpool John Moores University, UK (1998); and Postgraduate Certificate in Higher Education (PGCHE) from Nottingham Trent University, UK (2006).
His main areas of research expertise include design optimisation of structural systems, sustainable construction materials, non-destructive testing techniques, and finite element analysis of civil and structural engineering projects. Fouad is a reviewer for several structural engineering textbooks and journal paper, and a member of editorial team of the Journal of Engineering and Sustainable Development (JESD) and The Scientific Journal of Koya University (ARO).
Furthermore, he is a member of the Academic Council of Athens Institute for Education and Research (ATINER).
Presented by: Mahmood A. Bakr Khayyat, PhD
Details
Start:
7 April, 2022 2:00 pm
End:
7 April, 2022 4:00 pm
ORGANISER
University of Kurdistan Hewlêr (UKH) & Institut français du Proche-Orient (IfPO)
Website:
https://sway.office.com/s0dPC8JqYbXFxPS4?ref=Link
Tags
---