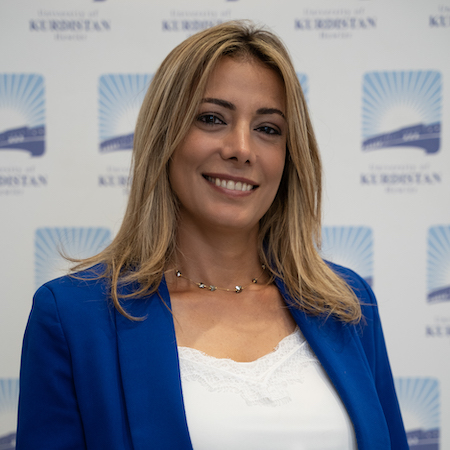 +964(0)750 857 8811
140
PEEC office - 30 Meter Avenue, Erbil, Kurdistan Region, Iraq
Sherine Khaled Al-Ahmad, PhD
Lecturer in Business Management/Business Administration/Director of Professional and Executive Education Centre (PEEC)
Introduction
Sherine Chaar is a Lecturer of Business Management at the UKH School of Management and Economics (SoME), and the Director of the Professional and Executive Education Centre (PEEC). Besides lecturing Leadership and cognate modules, she partners with local and international organisations to offer customised executive courses to cater to the needs of the KRI's workforce.
Prior to joining UKH, Sherine served as an Assistant Professor at the École Supérieure des Affaires (ESA-Paris) Business School in Beirut, Lebanon. She also served as a researcher and project manager at the ESA Research Center (CRED), where she led the development of an Audit Tool to assess Governance, Human Rights, and Ethical Practices of Non-Governmental Organizations (NGOs) in Lebanon and the MENA region.
Moreover, she conducted various research projects related to the banking industry during her tenure as a Researcher at the Union Arab of Banks.Before moving to academia, Sherine held the position of Head of Financial Control in the banking sector for over 16 years. Her extensive experience led her to become a Sworn Expert in Banking at the Lebanese Judicial Courts starting in 2011.
Education
- PhD in Business Administration, Beirut Arab University, 2019
- MSc in Business Administration, Beirut Arab University, 2014
- BSc in Business Administration/ Banking, Beirut Arab University, 2003
- Islamic Finance Qualification, Securities and Investment Institute, UK, 2008
Research
Sherine had published articles on innovation, leadership, knowledge sharing and emotional intelligence, in high-impact journals. In particular, an article titled "Emotional Intelligence and Career Outcome: Evidence from Lebanese Banks" was published in the Journal of Knowledge and Process Management. She also presented a paper on "Innovation for Banking Sustainability in the Covid-19 Era: The Role of Transformational Leadership and Knowledge Sharing" at the 23rd European Conference on Knowledge Management, Naples, Italy in September 2022.