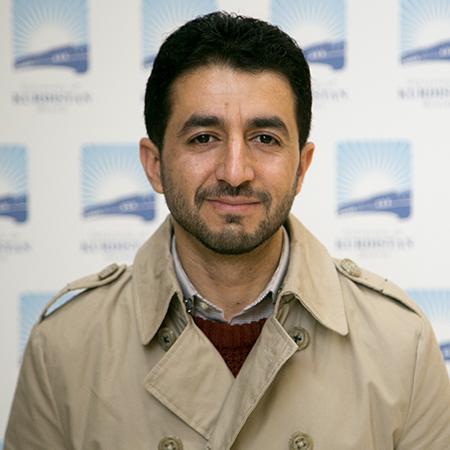 Bootan Mohammed Rahman
Mathematics Lecturer
Overview
Bootan Rahman is currently a Lecturer in Mathematics at University of Kurdistan, Hewlêr. He has previously held positions that include, Mathematics teacher at the Department of Engineering and Mathematics, ISC, University of Sussex; Associate Tutor at the Department of Mathematics, University of Sussex; Assistant lecturer and visiting assistant lecturer at Salahaddin University-Erbil and Soran University, respectively. Bootan earned his BSc and MSc from Salahaddin University-Erbil, and his Ph.D in mathematical biology from University of Sussex, United Kingdom where he worked with Dr Yuliya and Dr Konstantin. His Ph.D thesis led to the development of New Neural Network models with both Discrete and Distributed Delays in connections between nodes alongside the analysis of the stability properties of such systems.
His research lies in the area of applied mathematics in the context of Delay Differential Equations (DDE) and their applications to modelling neural and complex networks. Time delays play an important role in analysing the behaviour of such networks, as they allow one to account for inevitable delays in transmission, finite speed of signal propagation and delayed connection. Time delays can also be used to control networks to produce desired patterns and system behaviours.
Education
- PhD Applied Mathematics University of Sussex
- MSc Mathematics Salahaddin University
- BSc
Publications
First International Conference of Mathematics, University of Sulaimani (FICM2020), Sulaimani, Iraq, 24th-25th September, 2020. 'Keynote speaker'
Online Conference on Dynamics days central Asia, Kazakhstan, 2-5 Jun 2020.
Science Communication Hub Nigeria, TReND in Africa, Webinar, 5th Jun 2020, 'Speaker'.
COVID-19 and its Impact on Health and Society, University of Kirkuk, Online conference, 29th April 2020, Speaker.
6th Ph.D School/Conference on Mathematical Modelling of Complex Systems, Universita ''G. D'Annunzio'', Pescara, Italy, 3rd-11th July 2019. 'Given a talk'.
Professional Qualification
- Associate Fellowship of the Higher Education Academy in the UK.
- Associate membership of London Mathematical Society.
- Member of European Mathematical Society.