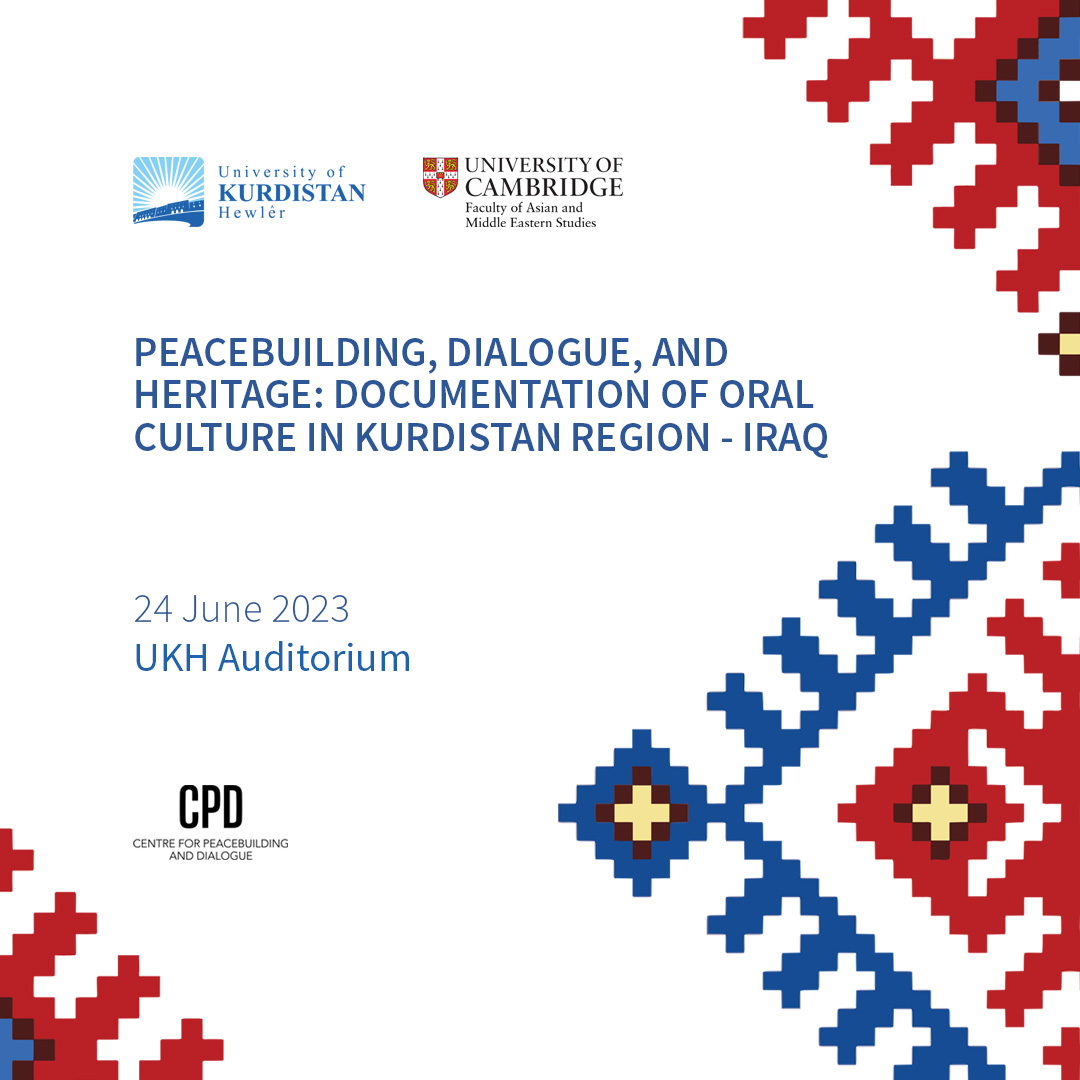 The University of Cambridge Faculty of Asian and Middle Eastern Studies, and the University of Kurdistan Hewlêr (UKH), the Centre for Peacebuilding & Dialogue (CPD), are delighted to announce their collaboration in organising a workshop and event on 'Peacebuilding, Dialogue, and Heritage: Documentation of Oral Culture in the Kurdistan Region – Iraq', which will take place in UKH on June 24, 2023.
The event is co-organised by University of Cambridge and UKH.
The workshop and event, following a University of Cambridge project, 'Peacebuilding through the Documentation of Endangered Oral Culture in Kurdistan Region of Iraq' aims to bring together researchers, storytellers, and practitioners representing diverse communities from the Kurdistan Region and the UK. Its purpose is to present the documented folklore heritage of Kurds, Syriac Christians, and Jews in the Kurdistan Region.
The event seeks to illuminate the significance of shared folktales in promoting peacebuilding through the mediums of dialogue and art.
The Centre for Peacebuilding & Dialogue (CPD) at UKH adopts a distinctive approach in its efforts to enhance peacebuilding, dialogue, conflict prevention mechanisms in the KRG and the broader Middle East region. Its strategic location in Erbil, grants CPD access to a wealth of diverse communities and a wide array of valuable data sources.
In pursuit of its goals, CPD has established a primary objective, which endeavours to provide empowering education, foster a culture of dialogue, and contribute to community development.
The event will take place on June 24, 2023, starting at 9:30 AM in UKH auditorium.
Presented by: Bayar Mustafa Sevdeen, PhD
Details
Start:
End:
ORGANISER
UKH Centre for Peacebuilding and Dialogue, University of Cambridge Faculty of Asian and Middle Eastern Studies
Website:
Tags
---