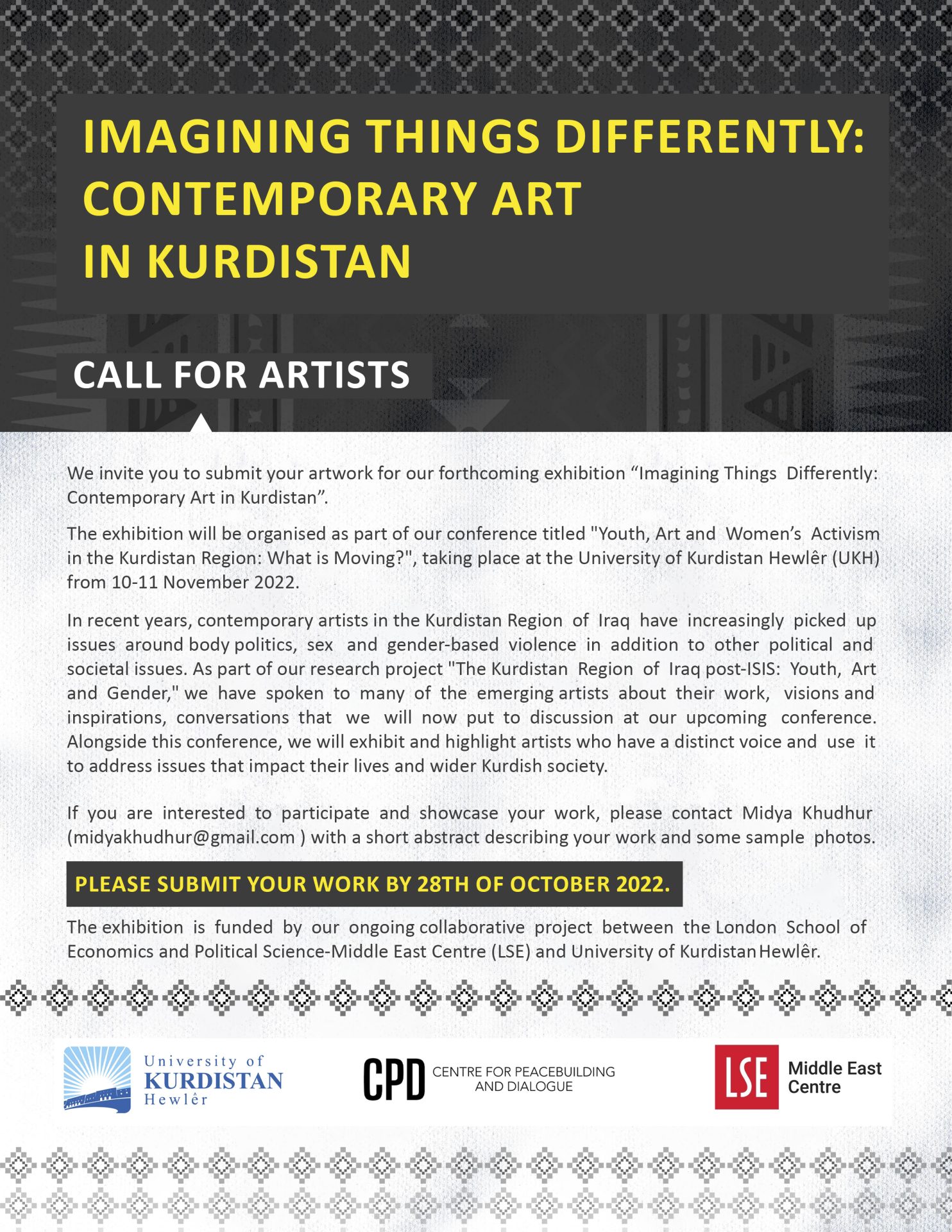 We invite you to submit your artwork for our forthcoming exhibition "Imagining Things Differently: Contemporary Art in Kurdistan".
The exhibition will be organised as part of our conference titled "Youth, Art and Women's Activism in the Kurdistan Region: What is Moving?", taking place at the University of Kurdistan Hewlêr (UKH) from 10-11 November 2022.
In recent years, contemporary artists in the Kurdistan Region of Iraq have increasingly picked up issues around body politics, sex, and gender-based violence in addition to other political and societal issues. As part of our research project "The Kurdistan Region of Iraq post-lSIS: Youth, Art and Gender," we have spoken to many of the emerging artists about their work, visions and inspirations, conversations that we will now put to discussion at our upcoming conference. Alongside this conference, we will exhibit and highlight artists who have a distinct voice and use it to address issues that impact their lives and wider Kurdish society.
If you are interested to participate and showcase your work, please contact Midya Khudhur ([email protected] ) with a short abstract describing your work and some sample photos.
PLEASE SUBMIT YOUR WORK BY 28TH OF OCTOBER 2022.
The exhibition is funded by our ongoing collaborative project between the London School of Economics and Political Science-Middle East Centre (LSE) and University of Kurdistan Hewlêr.
Click here for Event Programme
Presented by: Bayar Mustafa Sevdeen, PhD
Details
Start:
10 November, 2022 10:00 am
End:
11 November, 2022 4:00 pm
ORGANISER
Centre for Peacebuilding and Dialogue, UKH London School of Economics
Website:
Tags
---