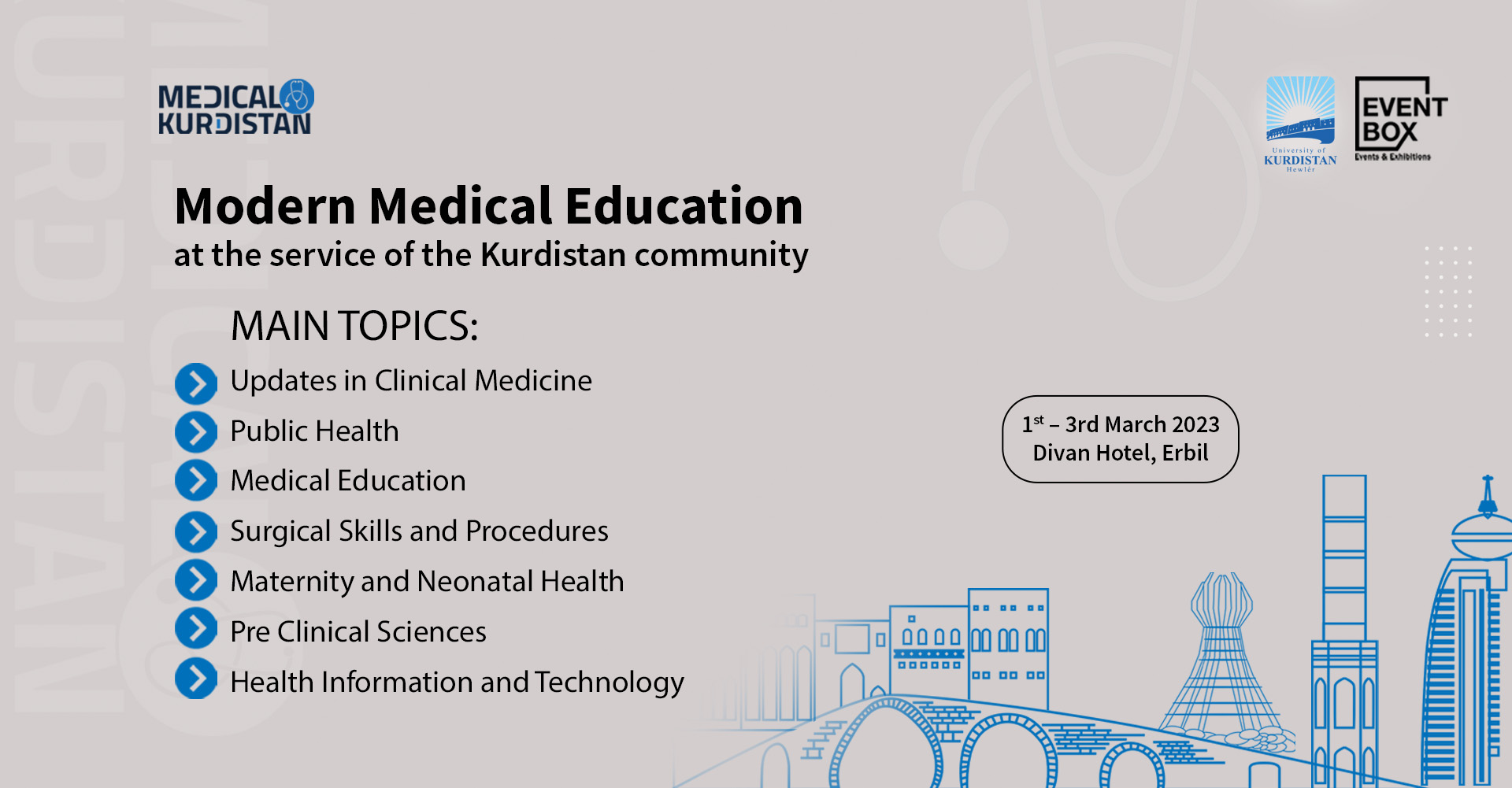 The First international medical conference of the School of Medicine (SoM) at the University of Kurdistan Hewlêr (UKH) is a unique platform to share recent research in medicine and a great opportunity to exchange knowledge and experiences in all related fields.
The conference will be held on the March 1st and continues until March 3rd, 2023 in Erbil, the capital of the Kurdistan Region of Iraq, the ancient wonder city and the new symbol of civilization and peaceful coexistence.
The conference is also an excellent opportunity for scientific presentations like oral, poster, and commercial exhibitions as well as experts' presentations in a wide range of medical specialties
UKH-SoM has a comprehensive programme, allowing the participants to renew friendships and extended networking.
We welcome all scientists, clinicians, students, health allied staff, researchers, and professionals from Iraq and all over the world to submit their research findings and meet to discuss recent advances and innovations in all branches of clinical and preclinical medical sciences.
The conference Main topics includes:
Updates in Clinical Medicine
Public Health
Medical Education
Surgical Skills and Procedures
Maternity and Neonatal Health
Pre-Clinical Sciences
Health Information and technology
The accepted abstract will be published in UKH Journal of Science, prizes will be offered to the top three abstracts to be elected by the scientific committee.
The scientific programme also includes workshops running in parallel to the conference main sessions, providing the participants with required knowledge and skills in Research, medical educations, and informatics.
This conference is organised in collaboration with KRG Ministry of Health, Kurdistan Board of Medical Specialties, Medical colleges, universities and Societies in the region.
We wish you an enjoyable and academically fruitful stay in Kurdistan.
For further information and registration, please visit the conference website at:
Looking forward to delivering what promise to a special and outstanding medical conference.
Presented by: Teshk Nouri Shawis
Details
Start:
1 March, 2023 10:00 am
End:
3 March, 2023 5:00 pm
ORGANISER
UKH School of Medicine (SoM)
Website:
http://medicalkurdistan.com/
Tags
---