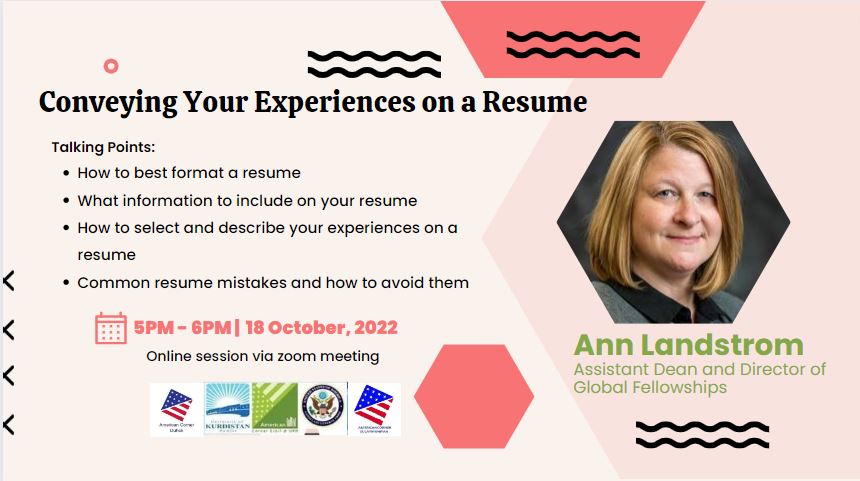 Conveying Your Experiences on a Resume
4 months ago
Topic: Conveying Your Experiences on a Resume
When: October 18, 2022 @5:00 PM
Where: Virtual through Zoom meeting
Register here: https://tinyurl.com/2olg756v
American Corners from Erbil, Sulaymanyah, and Duhok in collaboration with US Consulate General Erbil have arranged a virtual session for Ms Ann Landstrom, Assistant Dean and Director of Global Fellowships and Awards at Grinnell College, Grinnell, Iowa, United States.
Brief about the session
Your résumé is the primary part of your job application. It is most likely the first document seen by a prospective employer when they are considering you as a candidate for an open position. Join this informative session to learn how to best create a resume that conveys your education and experiences
About the speaker
Ann coordinates the nomination and selection processes for students and alumni interested in nationally competitive fellowships, scholarships and grants and select Grinnell College fellowships and awards.
#UKHACE #ACSulaimanyah #ACDuhok #usgerbil #ResumeandCV
Presented by: Ms Ann Landstrom
Event Type: Outreach Program
Event Location: American Corner Erbil
Starting: 18 Oct 2022 05:00 pm
Ending:18 Oct 2022 06:30 pm