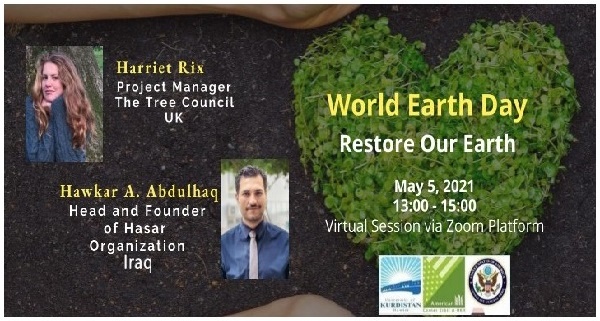 World Earth Day: Restore Our Earth
2 years ago
Environmental protection and sustainability are essential for a healthy and productive life, Under the theme of Restore Our Earth ACE is celebrating World Earth Day to raise awareness of preventing damage and restoring our Earth.
Please register your name here:
The speakers' bio:
1. Harriet Rix is Science and Research Project Manager at The Tree Council. She has an undergraduate master's degree in biochemistry from the University of Oxford, and a postgraduate master's in history and philosophy of science from the University of Cambridge. Before joining the Tree Council she worked in landmine clearance across the Middle East, and she has photographed plants for the Financial Times newspaper in Kyrgyzstan, Romania and Namibia.
2. Hawkar A. Abdulhaq is academic staff at the University of Kurdistan Hawler and head and founder of Hasar Organization. He graduated from the University of Salahadeen in 2011 with B.Sc. degree in Geology, and M.Sc. in Earth Science Engineering from Miskolc University in Hungary. He worked in the oil industry as an exploration geologist from 2011 to 2017.
Presented by: Harriet Rix and Hawkar A. Abdulhaq
Event Type: Outreach Program
Event Location: American Corner Erbil
Starting: 04 May 2021 01:00 pm
Ending:04 May 2021 02:00 pm