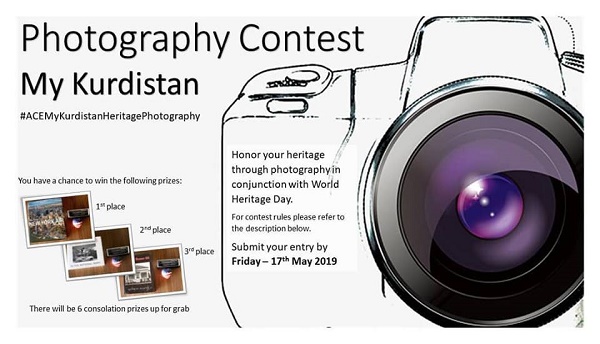 Photography contest My Kurdistan
4 years ago
(ACE) is organizing a photography contest to highlight and raise awareness about Kurdistan heritage and culture.
To enter the contest just follow the following simple steps:
Step 1 – Take a creative photo of any of Kurdistan's heritage sites
Step 2 – Write a caption about the importance of the site culturally and to you (no more than 50 words)
Step 3 – Post the photo on American Corner Erbil (ACE) Facebook page and Instagram with the hashtag
#ACEMyKurdistanHeritagePhotography
Step 4 - Send your contact details and entry to [email protected]
Contest Period
18 April – 17 May 2019
Winners will be determined based on:
1. Creativity – Is the photo original and aesthetically pleasing? Creative story and unique photo shots
2. Content – Personal connection to the site. Why it should be preserved?
3. Composition – Capture exceptional feature of the site
A panel of professional photographers and historians will be judging the submissions based on the above criteria.
Winner Announcement:
Winner will be announced Wednesday, 22 May 2019
Presented by: American Corner Erbil
Event Type: Outreach Program
Event Location: American Corner Erbil
Starting: 18 Apr 2019 08:00 am
Ending:17 May 2019 11:00 pm