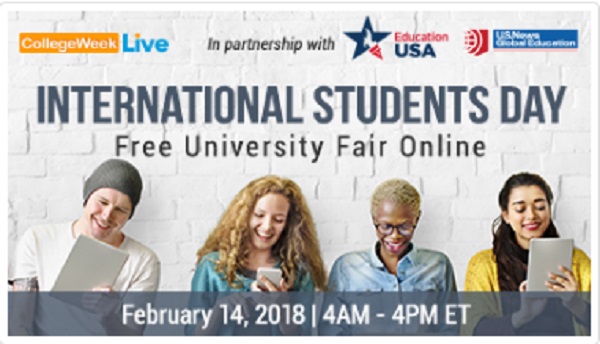 International Students Day
6 years ago
Are you interested in studying in the USA? Join A Live Stream Webminar to be held on February 14, 2018 for "International Students Day"
Background
International Students Day is a quarterly event to connect international students looking to study in the U.S. with college and university admissions as well as to educate them on relevant topics on coming to study in the United States. The university fair online is hosted on CollegeWeekLive.com.
Topics include
• Students looking to study in the U.S. can chat live with admission reps from 80+ U.S. colleges and universities.
• Learn from EducationUSA experts about obtaining student visas, undergrad and grad admission and funding and finding a US institution.
Time
4 a.m.-4 p.m., ET (Local time 12:00 p.m. - 12 a.m.)
To register please visit: -
- International Students Day - Free University Fair Online
- www.collegeweeklive.com/…/event-…/international-students-day