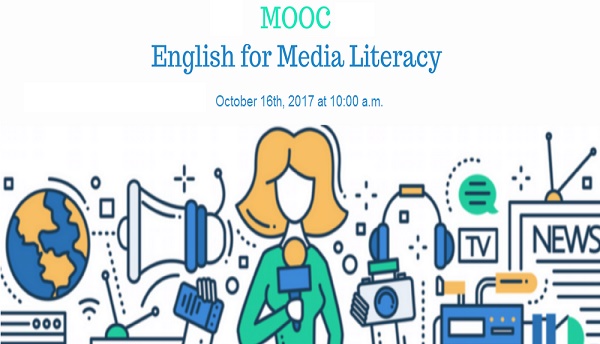 English for Media Literacy – a certificate bearing MOOC
6 years ago
A course created by the University of Pennsylvania, and funded by the U.S. Department of State Bureau of Educational and Cultural Affairs, Office of English Language Programs, designed for non-native English speakers who are interested in learning more about US media literacy.
Exploring different types of mass media, such as newspapers, magazines, television, and social media. This course will also give you the opportunity to develop a broader understanding of the role media plays in our lives, while building your vocabulary and giving you the language skills needed to analyze what you read and watch
This is a 5 week course (requiring approximately 7/8 hours per week commitment) – covering
1. Introduction to Media Literacy, where you will learn what media literacy means and how you can improve your own media literacy skills.
2. Types of Media: Traditional vs. Social - learn about the differences between traditional and social media, and learn the language necessary to compare them.
3. How advertisers use media to market their products.
4. The meaning of media bias and several common types of bias.
5. And diversity, the importance of including people from various races, cultures, and genders in mainstream media.
You must be working in or studying Media/social media/marketing fields; have an Intermediate level of English; and have the time and dedication to study on-line (7/8 hours commitment per week)over the 5 weeks and attend each week a MOOC camp at the American Corner Erbil on Mondays from 10.00 am – 12 noon over 6 consecutive sessions
Please e-mail us at [email protected] for a registration form and more information if you are interested in participating in this program – Enrolment and course starts on the first session on Monday October 16th, 2017 at 10.00 a.m.