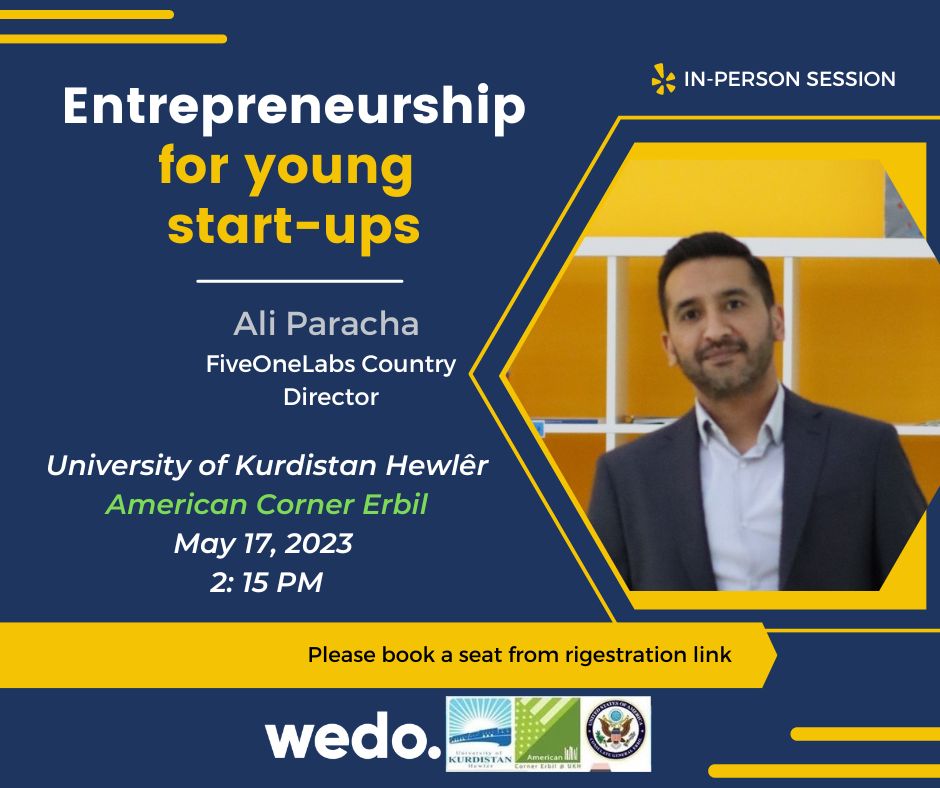 Youth Entrepreneurship for young start-ups
5 months ago
Youth Entrepreneurship for young start-ups
Do you want to kick start your career and start-ups, and standardize alongside international youth entrepreneurs? Let's set a strong strategy that prepares a business model for future marketing scope. American Corner Erbil in collaboration with Wedo has arranged a workshop for Mr Ali Paracha, Country Director from Five One Labs.
Please register your name here:
https://forms.office.com/r/VQzPatwzHS
Speaker's bio:
Ali Paracha is a seasoned operations and management professional hailing from Pakistan, with an extensive track record spanning over 15 years across diverse international organizations. With the rich experience gained from working in Africa, Asia, Europe, and the Middle East, Ali's expertise in global operations management is a testament to his successful career trajectory. Currently serving as the Country Director, Ali's primary responsibility at FiveOne Labs is to provide strategic direction, drive growth, and spearhead management initiatives. Holding a Master's degree in finance and international relations, Ali is a competent leader who combines his in-depth knowledge of financial management with a keen understanding of the dynamics of international relations to achieve optimal results. Outside of work, Ali is a true adventurer at heart and can often be found planning his next trip or endeavoring to learn a new language. His passion for exploring the world and embracing different cultures has undoubtedly informed his approach to work and leadership, inspiring his team to think outside the box and explore innovative solutions.
Presented by: Ali Paracha
Event Type: Entrepreneurship
Event Location: American Corner Erbil
Starting: 17 May 2023 02:30 pm
Ending:17 May 2023 04:30 pm