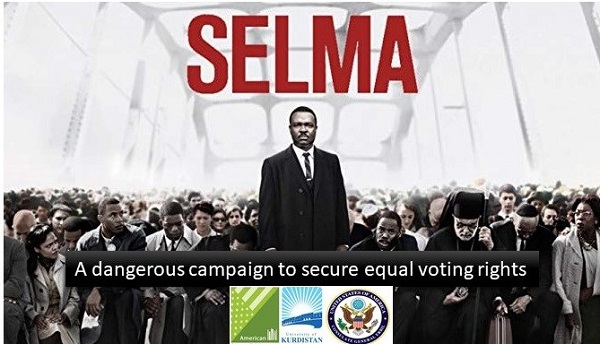 American Movie Screen: SELMA
2 months ago
On the occasion of Black History Month and the lead up to the International Day for Social Justice, the American Corner will screen the film, SELMA, followed by a brief discussion. Calvin, who is the assistant Public Officer from US Consulate Erbil, will lead on the discussion. The film chronicles the tumultuous three-month period in 1965, when Dr. Martin Luther King, Jr. led a dangerous campaign to secure equal voting rights in the face of violent opposition. Join us, enjoy watching a historical movie, and having a meaningful and engaging discussion.

To participate please contact us via:
07501961908
[email protected]
Facebook: ACE.UKH

A brief about the film:
Although the Civil Rights Act of 1964 legally desegregated the South, discrimination was still rampant in certain areas, making it very difficult for blacks to register to vote. In 1965, an Alabama city became the battleground in the fight for suffrage. Despite violent opposition, Dr. Martin Luther King Jr. (David Oyelowo) and his followers pressed forward on an epic march from Selma to Montgomery, and their efforts culminated in President Lyndon Johnson signing the Voting Rights Act of 1965.
Presented by: American Corner Erbil
Event Type: Cultural event
Event Location: American Corner Erbil
Starting: 12 Feb 2020 03:00 pm
Ending:12 Feb 2020 04:30 pm